Password Policy for
Hospitals and
Healthcare Providers
Reach your HITRUST Password Compliance
Enzoic Provides Hospitals and Healthcare Providers Real-time Password Screening
Compliant: Aids with NIST 800-63b, NIST 800-171, HIPAA, and HITRUST

Daily Screening: Continuous exposed password filtering

New Exposures: Detects if a safe password becomes exposed
Automated: No extra manual work

Quick: Checks in milliseconds

Insight: Dashboard and SIEM logging
Try a quick free password audit
---
---
Enable HITRUST Password Screening
---
Many hospitals and health services monitor for weak, commonly-used, expected, and compromised passwords in Active Directory. Passwords are checked at the time it is created or reset to make sure it is safe. Organizations should continue to monitor passwords daily against a real-time compromised password database to ensure it doesn't become unsafe.
Enzoic provides an easy way to keep accounts safe without adding a lot of complexity to user authentication. With compromised password detection, custom password dictionary, blocking of username derivatives, fuzzy matching with common character substitutions, and continuous ongoing monitoring; healthcare organizations can eliminate vulnerable passwords in Active Directory and follow NIST password guidelines without a lot of friction.
Need more details? Watch the Active Directory password monitoring product demo.
Healthcare E-Book
---
According to the HIPAA Journal, over the past eleven years (2009-2020) there have been more than 3,705 healthcare data breaches impacting more than 268 million medical records.
Why is this happening, and what can we do to address it? Read this e-Book to discover the culprits and cures.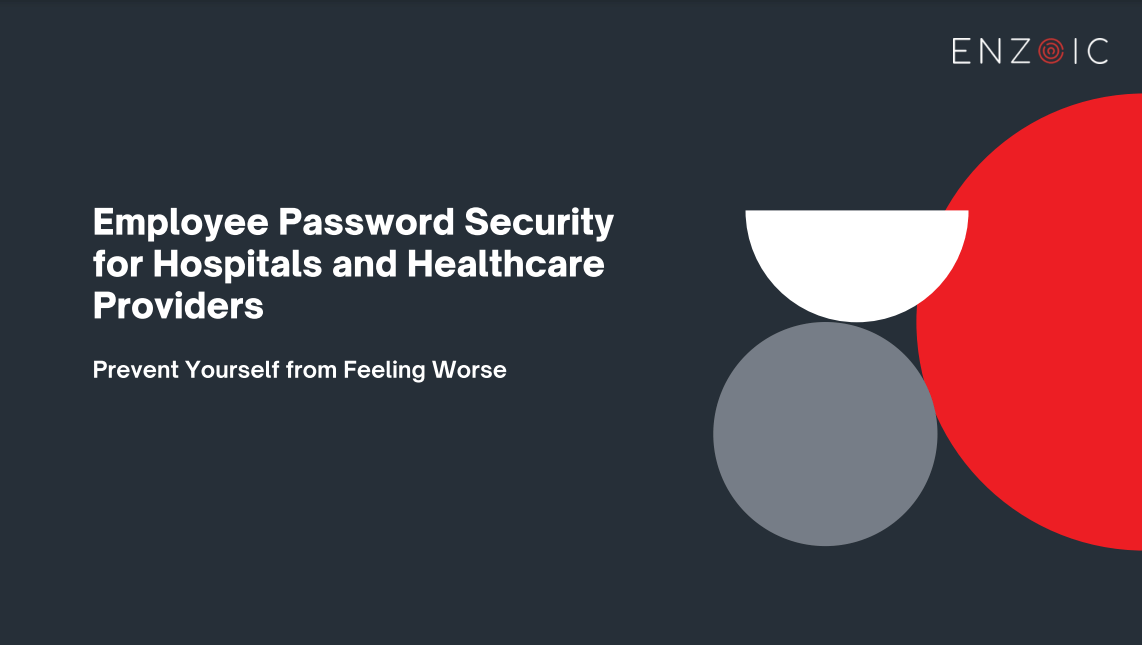 Why Hospitals and Healthcare Providers Trust Enzoic
---
Continuous Password Protection
Safe passwords can become unsafe because of round-the-clock data breaches and leaks. Continuous password protection is an automated daily password check that alerts of weak or exposed passwords daily.
Compromised Password Monitoring
With passwords being leaked or exposed every day, it is imperative that healthcare organizations screen for not only weak passwords, but compromised passwords that have been exposed online or on the dark web.
Context-Specific Password Screening
Many people will use their hospital or employer name in their work password to make it easier to remember. These types of context-specific passwords should be blocked with the use of a custom password dictionary.
Similar Password Blocking
Employees often use a form of a root password that gets changed by just a few characters. Fuzzy password matching checks the new password against the old password and blocks it if it is too similar.
Commonly-Used Password Filtering
Good password hygiene starts with preventing commonly-used passwords and dictionary words. Common passwords, like Password1234, should not be allowed to be used by employees.