Enzoic for AD Lite (TM)
A free password auditing tool for Active Directory.
See your domain's password vulnerabilities in seconds.
---
Quickly Scan for Unsafe Passwords with Enzoic's Free Password Auditor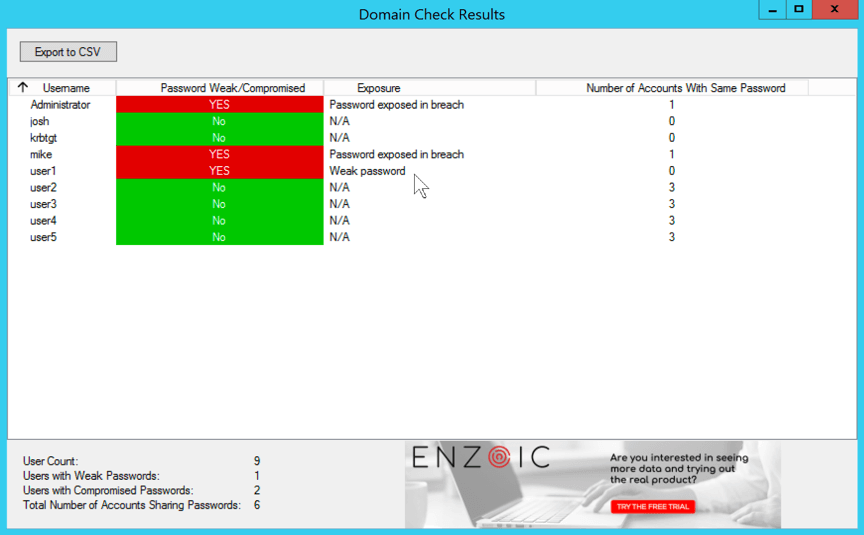 Check your domain's password vulnerabilities in seconds. No key required.
---
Traditional algorithmic complexity is no longer considered essential to password strength. NIST password guidelines now want you to screen for commonly used and compromised passwords.
Enzoic's quick and free password auditor pinpoints which user accounts in Active Directory have weak, compromised or reused passwords.
---
New data breaches expose user credentials every day causing password audits to be more difficult. These passwords are quickly fed into hackers' cracking dictionaries and changing which passwords you need to keep out of your organization.
With Enzoic for Active Directory Lite, auditing for compromised passwords is quick and easy. By using Enzoic's proprietary database of 7+ billion exposed passwords, Enzoic's password auditing tool quickly scans your Active Directory environment and identifies:
common and weak passwords,
passwords found in cracking dictionaries,
pwned passwords - actual passwords previously breached and exposed online
reused passwords
---
Enzoic's password auditing tool provides a great baseline for assessing password vulnerability.
Get the next level of compromised credentials protection and try the full Enzoic for Active Directory.